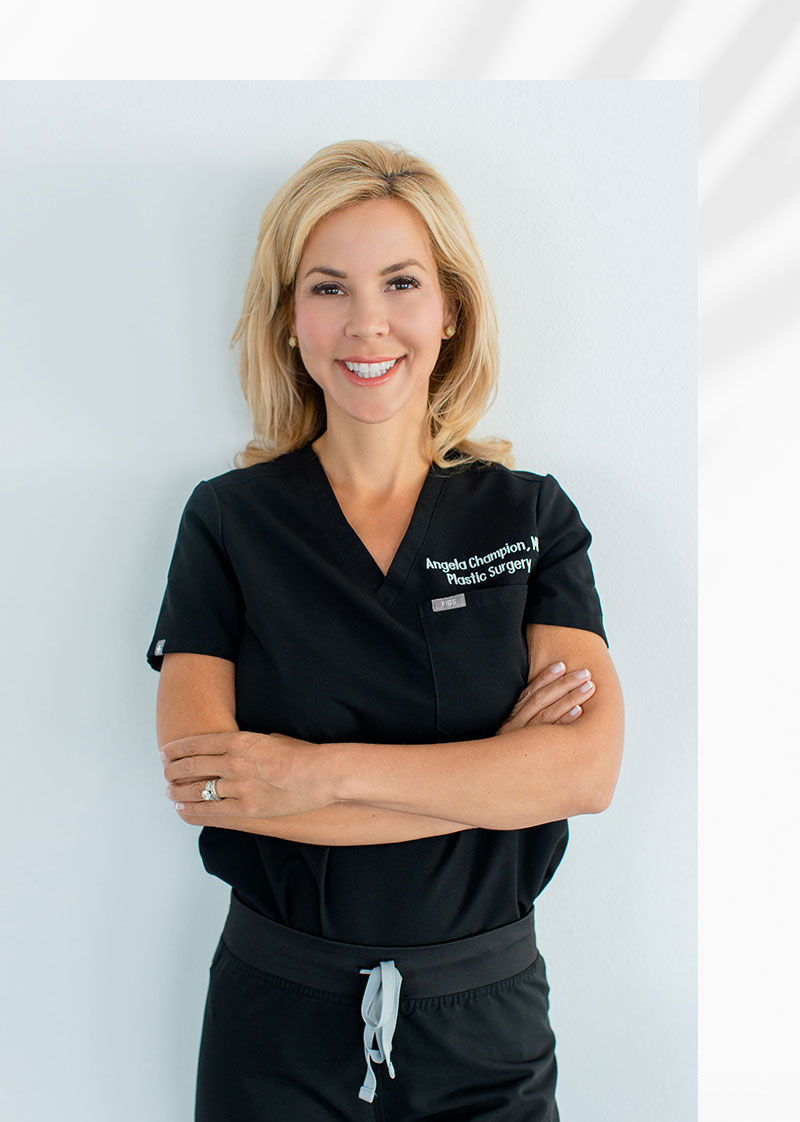 Angela Champion, MD
Board-Certified Plastic Surgeon In Newport Beach
Dr. Champion has been practicing in the field of plastic surgery since the early 2000s and specializes in breast surgery such as breast augmentation, breast lifts, breast reduction, breast implant removal and breast revision surgery. She also performs mommy makeovers, including tummy tucks and liposuction with or without breast surgery. Dr. Champion combats facial aging with facelifts, necklifts, eyelid surgery and fat transfer, in addition to Botox, fillers and medical grade skin care. Dr. Champion is committed to the aesthetic goals of her patients and understands the pressures many people face as they age and their bodies change.
Angela Champion, M.D. is among the top female board-certified plastic surgeons in Newport Beach.
About Dr. Champion
Patient Testimonials
"I got a breast augmentation done a month ago…and am beyond pleased with my results. Also pleased with my choice in office and surgeon, Dr. Champion is so sweet and takes time to listen. Along with her staff (Mimi) is so great and helpful. This Beauty team really does care about you and about making sure they keep a follow up on you. If I had a concern it was always addressed. This experience has been incredible!"
Read More
Breast
Breast procedures such as breast augmentations are one of the most popular and satisfying procedures requested by women. Many women choose to have breast surgery after pregnancy, weight loss or simply because they want to go larger, by adding volume with an implant or lifting/reducing their breasts so they are elevated with a beautiful aesthetic shape. Dr. Champion is highly sought after because she customizes every breast procedure in order to achieve the breasts you have always hoped for.
Breast Procedures
Body
Body contouring has gained momentum over the last several years. Procedures such as liposuction can help sculpt by removing stubborn fat that is resistant to diet and exercise whereas a tummy tuck can tighten your abdominal muscles and remove the excess skin that many women experience after pregnancy or weight loss. If desired, these procedures can be combined and also performed with a breast procedure for a custom Mommy Makeover designed by Dr. Champion to achieve your ideal body goals.
Body Procedures
Face
Facial rejuvenation lifts and contours by removing excess skin and tightening your muscles to achieve a more youthful and rested result. In order to refresh your appearance, there are different procedures that may be recommended such as a face/neck lift, brow lift or eyelid surgery. Dr. Champion's results enhance your natural beauty with firmer and smoother skin, a more defined jawline and a result that is long lasting with little to no downtime.
Face Procedures
"Every patient's individual needs are important to me and I am excited to take this life changing journey with you."

– Dr. Champion